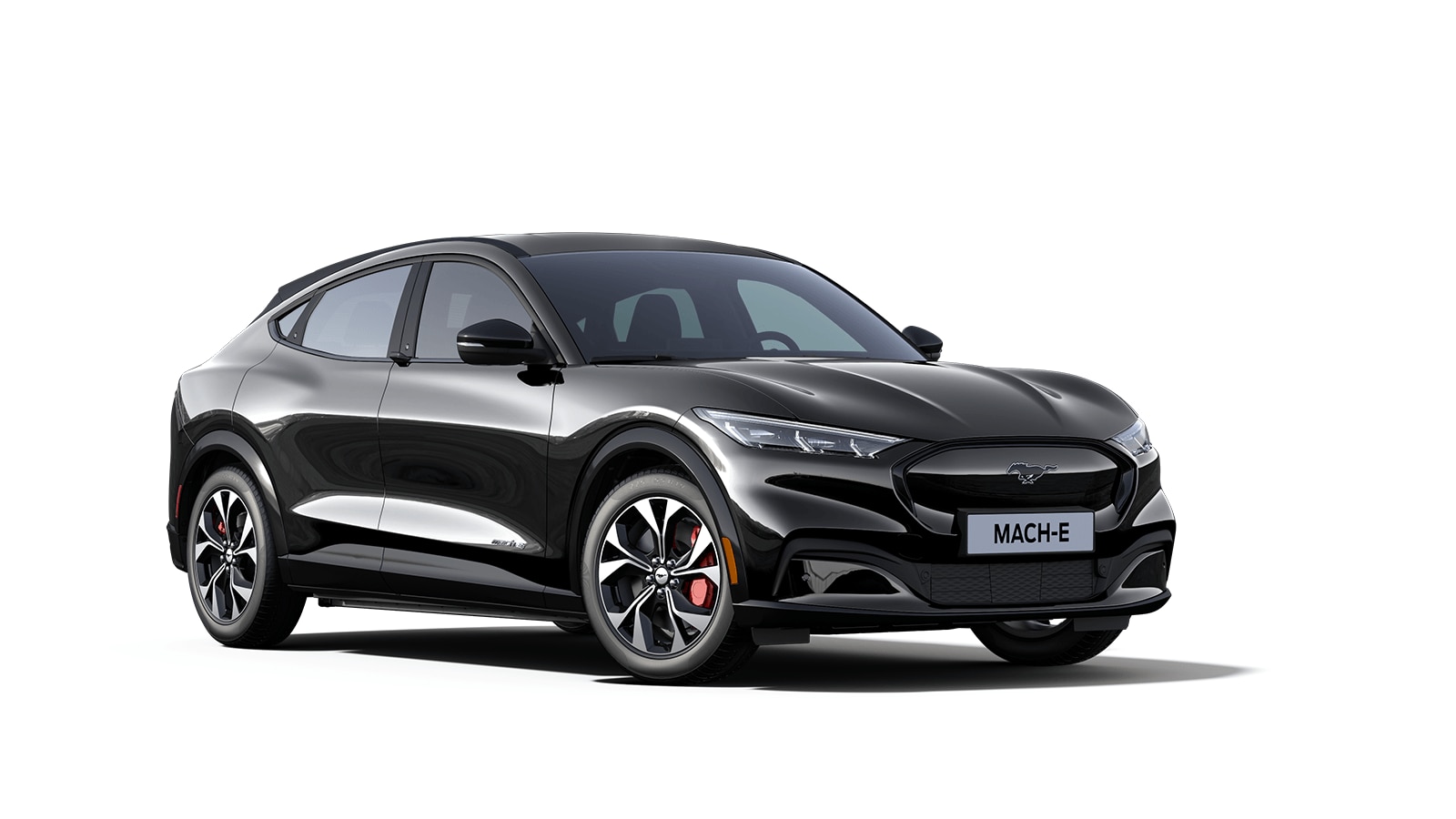 Electric vehicles have performance and are environmentally friendly, but they still have one major problem; their range anxiety.
Range Anxiety has become a thing of the past, as some EVs can compete with petrol-fueled cars by driving for long miles before needing a recharge.
5.Ford Mustang Mach-E – 379 miles
Ignore the contentious badge; there are still many out there who claim that calling it a Mustang is heresy. We know it's not a proper Mustang too. Just focus on Ford's effort in the EV space. For starters, it's not short of muscle, with the 345bhp four-wheel-drive model capable of cracking 62mph in 5.1 seconds. It's pretty good to drive with decent agility, grip, and composure. It's perhaps a little cheap feeling inside, but a giant Tesla-style infotainment tablet gives it a suitably hi-tech feel. Although a very different car from its V8-powered namesake, the Mustang Mach-E is impressive. It offers a large amount of space for family use, but the entire range has well over 200 miles of real-world range, all the way up to a claimed 379 miles when fitted with the 88kWh battery rear-wheel drive setup.
Inside, the Mustang Mach-E feels a little more premium than other Ford models. A standard kit includes dual-zone climate control, a rear view camera, heated front seats, heated steering wheel, a 15.5-inch touchscreen, and a 10.2-inch digital instrument display.
4. BMW iX – 380 miles
The iX sports a very modern, multifaceted design that keeps things looking sharp yet streamlined when it comes to looks. It's a clean, deliberate look that won't be mistaken for anything else on the road, but it won't be to everyone's tastes. Inside, it's stylish, roomy and a very comfortable place to be for both driver and passengers. Ample rear cargo space is available behind the second row, while folding the rear seats down reveals a 77.9-cubic-foot cavern.
Despite tipping the scales at over two and a half tons, for the money, you get a leather-lined interior, bags of clever technology and a very potent powertrain. The slim headlights and stout grille make it look, part ninja, part beaver. It looks controversial, but you can't argue with the iX's electricity-stretching range, with the flagship xDrive50 Sport managing a claimed 380 miles between charges. It achieves this thanks to a large 105.2kWh lithium-ion battery linked to two electric motors that deliver a combined might of 516bhp. The xDrive50 model's two electric motors have a combined output of 516bhp, which is enough for a 0–62mph time of 4.6 seconds and a top speed of 124mph. When you need to stop, 195kW charging ability means you can add 93 miles of range in 10 minutes at a suitable fast rapid charger. It's also equipped with a Level 2 charging port that will fill up the iX in 7 to 11 hours, depending on the available wattage. Connecting it to a DC fast charger will have it top up between 20 mins or an hour. 
3. Tesla Model S – 405 miles
For almost a decade, the Tesla Model S has been the undisputed EV range king – and even though the car is about to celebrate its tenth birthday, it's still taking a place on the podium. Tesla's longest-serving model is also the one that will travel farthest on a single charge. Constant refinement and over-the-air updates have meant that the Model S has been able to seek more efficiency ever out of its lithium-ion battery. As a result, the 100kWh equipped Long Range Plus now promises 405 miles between recharges – and Tesla reckons there's more to come. It lacks the build quality and driver appeal of newer rivals (the steering is mute, the handling inert, and the ride choppy), but when it comes to travelling as far as possible in an EV, the Model S is unbeatable.
As the competition continues to get better, the car that cemented Tesla's place in the electric car market, the Model S, has recently undergone a major update. Continual updates over the years mean range is impressive across all models, and Model S drivers also benefit from access to the Tesla-exclusive Supercharger network. The latest versions can accept 250kW charging, good for 200 miles of range in 15 minutes. The Model S is highly usable, with a headline range figure of 405 miles available with the Long Range model.
2. Mercedes EQS – 453 miles
Unapologetically imposing yet elegantly discreet, the Mercedes-Benz S-Class has served as the standard-bearer for premium luxury sedans since the 1960s. Despite dominating the segment, which is often marked by high-tech advancements mixed with traditional design elements, the relevance of old-guard internal combustion flagships has been waning in the face of a certain emergent EV brand.
The Mercedes EQS is the electric equivalent of the S-Class and, as a luxury limousine, its target audience wouldn't be best impressed if they had to spend half their day waiting at some seedy service station waiting for the battery to recharge. Luckily, the EQS has a very long wheelbase, and Mercedes has filled that space with a whopping 107.8kWh battery. 200kW rapid charging means 80 percent capacity in 31 minutes.
That's the largest car battery on sale today – and it provides a maximum range of more than 450 miles. But that's only if you treat the throttle with care. Do the opposite, and you'll coax some surprising performance from the EQS's electric motor. 0–62mph takes 6.2 seconds; as you'd expect, the driving
experience is soothing and luxurious, but with all-wheel drive, adaptive air suspension and 325bhp, it can be hustled harder than you'd think.
The EQS is very good to drive, and its interior is exquisite, but the almost six-figure starting price (top-of-the-range Exclusive Luxury models cost £113,995) means this isn't a car for the masses. Keep an eye out for the EQE saloon later this year – that won't need quite the same financial power to acquire, and it's set to achieve 410 miles of range.
1. 2022 Lucid Air Dream Edition R – 520 miles
The Lucid Air has dethroned the Tesla Model S and taken over as long-range champion (at least for now). Available in various trims, the longest-range Air is the 520-mile Dream R with AWD and 19-inch wheels. Even more incredibly, every version of the Air has a longer range than any other currently available EV — the lowest-rated model, the high-performance Dream P with the least-efficient 21-inch wheels, clocks in at a healthy 451 miles of range.
The 2022 Lucid Air aspires to be much more than a mere Tesla rip-off. The first model from startup Lucid Motors boasts an aerodynamic shape that's functional and fashionable. Its spacious, upscale cabin is covered by a glassy canopy that should help it live up to its atmospheric name. The Air also mixes practicality with technology, sporting spacious storage options and no shortage of driver assists.
The key to that range—enough for roughly seven highway hours at an average of 70 mph—is not simply a giant battery pack. However, the Air Dream's 22 modules, 6,600 cylindrical lithium-ion cells and 118-kilowatt-hour capacity qualify as "big."
The Air has also become the industry's fastest-charging EV, adding up to 300 miles in 20 minutes. Credit this sedan's 900-volt architecture (versus 400 volts for Teslas and 800 for the Porsche Taycan) for a peak charging rate of 300 kilowatts. Such speedy refills require finding a 350-kilowatt fast charger, which is just finding its footing in America. But even on a more-common 150-kilowatt public charger, the Lucid will add miles more quickly than any rival.  
Do you also want to be a part of the Green Evolution? Check our job page for interesting opportunities in the EV industry!