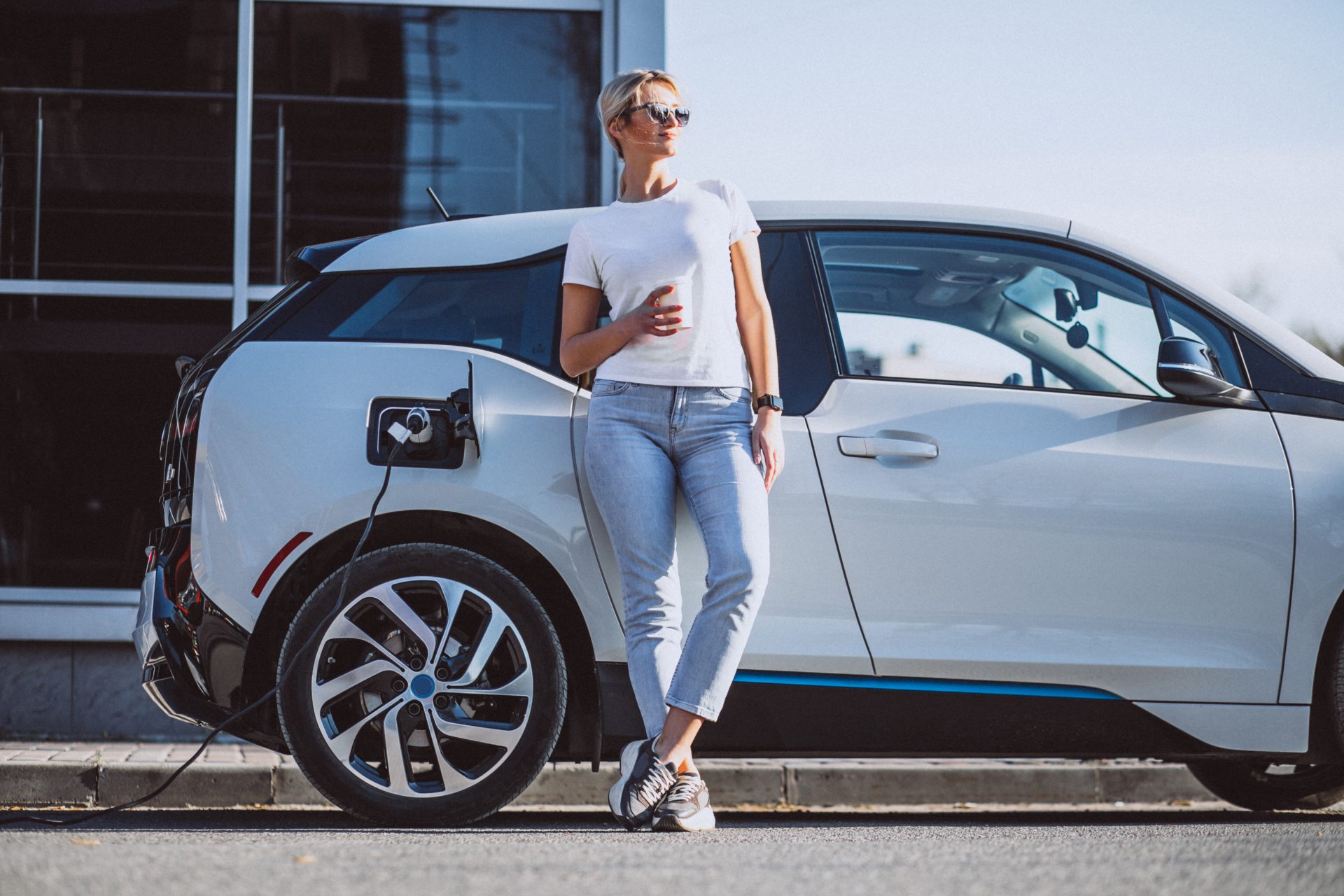 Electric cars and SUVs are two types of cars that are currently in huge demand, so electric SUVs are perhaps the most desirable models of all right now.
These are some of the BEST SUVs in the market: 
Kia EV6 – $40,900
The Kia EV6 is the company's first dedicated electric vehicle, and it's constructed on the same Electric-Global Modular Platform (E-GMP) as the EV6. The EV6 is an example of the expanding choices and capabilities of the latest electric vehicles, with an estimated range of up to 310 miles and speedy charging rates thanks to its 800-volt architecture. It also comes with two different batteries, rear- or all-wheel drive, and horsepower ranging from 167 to 576.
The EV6's interior design and layout aren't as audacious as the outside, but the arrangement and features are more appealing and futuristic than any other Kia car now on the market.
Audi Q4 e-tron – $43,900
The Audi Q4 e-Tron could be the vehicle that persuades you that electric vehicles are more than just a fringe option – and that you'll see a lot of them on the road.
The entry-level Audi Q4 e-Tron – the 35 model – features a single 168bhp motor that powers its rear wheels and gets you from 0-62mph in 9.0sec. At the other end of the range, the 50 can hit 62mph in 6.2sec thanks to twin motors, four-wheel drive and 295bhp of poke.
Around town, the Q4 feels supple, and it breathes with the road at high velocity without becoming weightless. With adjustable suspension, it even beats even the incredibly comfortable Skoda Enyaq iV.
The Q4 e-tron doesn't have the same level of refinement as the larger and more expensive Audi E-tron, but it does a better job of blocking out road noise than major competitors like the Mustang Mach-E and the XC40 Recharge.
2022 BMW – iX $83,200
Many cars in the ever-growing EV universe offer peak performance, luxury, and range, but the BMW iX offers all three while remaining faithful to the German company's roots. Its styling may divide opinions, but its dual-motor power delivery will satisfy any fan behind the wheel, and the range (up to 324 miles) is ample enough to indulge in heavy-foot driving without fear of running out of gas.
The iX will compete with other all-electric mid-size cars like the Audi e-Tron, Tesla Model X, and, to a lesser extent, the Ford Mustang Mach-E. The Audi is its closest competitor in style and technology, while the Model X is comparable in terms of range and power. The Mach-E Mustang offers similarly poised performance and passenger comfort levels but less cargo room and a much lower price.
The iX stores its juice in a 105.2 lithium-ion battery pack, which provides an estimated 324 miles of range for the xDrive50 or 280 miles in the M60. Only Tesla offers more range, and not by all that much. Fitting the larger optional wheels reduces how far a charge will take you, but not severely. It's equipped with a Level 2 charging port that will fill up the iX in 7 to 11 hours, depending on the available wattage. Connecting it to a DC fast charger will top up between 20 minutes and an hour. 
The iX also has a dynamic brake energy regen system, which utilizes sensors to monitor the road ahead and allows the car to cruise off the throttle when it's clear or brake if it detects a vehicle ahead. This is in contrast to the typical aggressive one-pedal driving methods used in EVs, and it gives a smoother ride while maximizing mileage.
Skoda Enyaq – $40,000
The Enyaq is a spacious SUV with lots of room for the family and an excellent electric range that doesn't require you to break the bank to purchase.
Skoda equipped the Enyaq with a slew of innovative features to reduce stress in everyday life. There's a phone app for remotely monitoring the battery charge, pillow-soft rear headrests similar to those in Mercedes S-Classes, and even a cleaning tool for the charging wire so you don't get mucky hands.
Three power outputs and two drive configurations are available for the Skoda Enyaq. The 60 and 80 are rear-wheel drive, with the 60 putting out 177bhp and the 80 delivering 201bhp. The difference between the two in acceleration isn't dramatic, partly because the 80 has to lug around a heavier battery pack. It's a different story with the 80X, which has a four-wheel drive for better traction to deploy the 261bhp at its disposal. It has a range of up to 330 miles.
The Enyaq stays upright through turns as long as you're not too enthusiastic, and the light but precise steering allows you to position the car confidently. Rear-wheel drive vehicles have a small turning circle, useful for parking and maneuvering.
Ford Mustang Mach-e – $44,995
Badged Mustang, like millions of great American sports cars, launched since the nameplate first popped up in 1964. Ford's revolutionary pony car is a near-silent, completely eco-friendly galloper styled like a crossbreed of Aintree winner and steeple chase champion. The Mach-E is heralded as a decidedly dynamic EV that puts street cred above cabin acreage and presence before lollipop aerodynamics. The driving range and technology available to buyers of this car are more likely to entice them on offer. The fact that it's a lot of fun to drive and comes with a horsey badge are just added bonuses.
It is available with either a standard-range 70.0-kWh battery or an extended-range 91.0-kWh pack. These feed an electric motor mounted on the rear or both axles. That latter combination creates all-wheel drive, and on the sporty GT and GT Performance models, the motors combine to make 480 horsepower and up to 634 pound-feet of torque.
It has an EPA-estimated range of between 211 and 305 miles, depending on the battery pack and type of electric motor, which isn't nearly as impressive as the rangiest Tesla models. Every model also has a fast-charging capability. Every Mach-E comes out of the box with a Ford mobile charger that can add up to 30 miles of range per night with a 120-volt outlet and up to 80 percent of battery life overnight with a 240-volt outlet. 
2022 Volvo C40 Recharge – $58,750
The all-electric Volvo XC40 Recharge was debuted as a small gas-powered SUV in 2017, and the 2022 Volvo C40 Recharge is its crossover coupe relative. The Recharge is a novel take on what an electrified crossover can offer, with a capacity for five passengers, more than 17 cubic feet of cargo space, an all-electric powertrain, and plenty of 
cool techs. This all-electric vehicle's first iteration competes with the Jaguar I-Pace, Tesla Model Y, Audi Q4 e-tron, and other small coupe-like electric SUVs.
Whether you're driving through town or a mountain pass, the C40 is a blast to drive. There's plenty of torque and power at the low end, as with most all-electric vehicles. The vehicle feels safe and planted on the road because of the battery arrangement, and the all-wheel-drive system makes quick work of switchbacks. The EPA estimates that the C40 Recharge's 78 kWh lithium-ion battery pack
 provides a range of 226 miles.
A 226-mile range should be sufficient for the average commuter or parent who has to transport children to and from school, drive to and from work and home, and conduct daily errands.
The Tesla Model Y – $53,190
The Tesla Model Y is a Model 3 injected with growth hormone to transform it into an SUV with a higher driving position and larger interior space.
Using a 75 kWh battery and dual motors (69kW and 201 kW), the base Long Range option is AWD and has a 326-mile range. The top-of-the-line AWD Performance edition uses 133-kW and 179-kW dual motors and offers a lower range of 303 miles. 
All versions have a large glass roof, a matte black interior with vegan leather seats, and reclining second-row seatbacks. The streamlined dashboard features a 15-inch touchscreen that offers streaming media channels, satellite-view maps, internet surfing, and karaoke (connectivity subscription required). The Standard and Long-Range variants have an optional two-seat third row, but the Performance edition only has five seats.
Standard advanced driver safety tech includes adaptive cruise control, lane-keeping assistance, automatic emergency braking, forward collision warning, blind-spot warning, surround-view camera (with recording ability), automatic high beams, etc. The semi-autonomous dynamic driving-assistance systems, such as Navigate-on-Autopilot, lane-change assistance and remote parking, are optionally available with the Full Self-Driving Capability package.
What do you think about these SUVs, would you buy one?