The White House announced spending $7.5 billion in Electric Vehicle Infrastructure
$7.5 billion on Electric Vehicle Infrastructure? Yes, the USA government is willing to invest significantly in its EV infrastructure. President Joe Biden states that 'the future of the car industry is electric'.
Earlier this year, Biden announced along General Motors and Ford executives the ambitious plan. The plan is to have by 2030, 50 percent of the sold cars to be electric vehicles. Do you think this is doable? This statement is largely symbolic and also nonbinding. But it does aim for automakers to quickly make the transition from gas-burning cars to electric vehicles. This transition is one of the key components of Biden's climate change strategy.
The USA is falling behind Europe and China, they are already growing their EV market and expanding their manufacturing. Biden emphasizes this in his speech. He stated that the question is whether the USA will lead or fall behind in the race for the future.
Biden-Harris Electric Vehicle Charging Action Plan
On the 13th of December 2021, the Bid-Harris Administration released their EV Charging Action Plan. This plan is to outline the steps the federal agencies are taking to support the electric transition. It includes $7.5 billion for EV infrastructure. The focus is on building a reliable public charging network, with focus on filling gaps in hard-to-reach and rural areas. The goal is to grow the national EV charging network from 100,000 to 500,000 charging stations. Moreover, $7.5 billion will be invested in electrifying public transport.
And what about the batteries?
The Biden-Harris administration works on increasing the manufacturing of EV batteries and its components. $7 billion will be invested in improving innovation and facilities across the battery supply chain.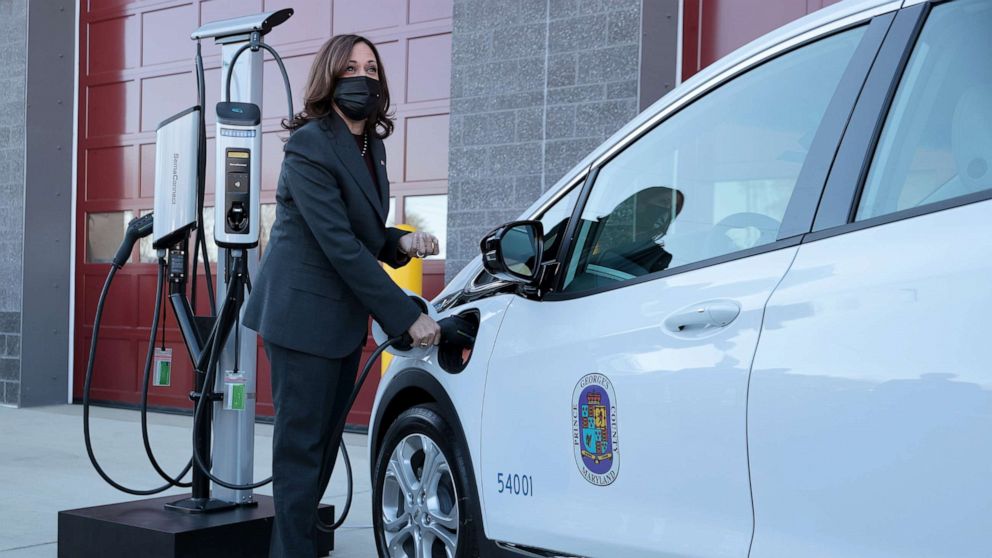 But there are also concerns
U.S. autoworkers worry that jobs will be outsourced overseas, to parts of the world where building of the electric vehicles is happening on a larger scale and where labor is cheaper. Moreover, there are concerns that electric vehicles are not affordable for most American people.
To address those concerns, the government is working on lower the costs of electric vehicles made in the U.S. by union workers and will include a tax credit up to $4,000 for used EV's.
EV fleet growth in the USA
In a recent Pew Research Center survey, 7% of U.S. adults said they currently have an electric or hybrid vehicle. And 39% said they were very or somewhat likely to seriously consider buying an electric vehicle the next time they're in the market for new wheels.
As of 2020, nearly 1.8 million EVs were registered in the U.S., more than three times as many as in 2016. The total number of such vehicles registered in the U.S. has soared from fewer than 300,000 in 2016 to more than 1.1 million last year. EV sales should grow to reach approximately 29.5% of all new car sales in 2030, expecting roughly 3.4% in 2021.
Many major automakers are already heading towards electric. General Motors stated that it will stop making gas-powered vehicles. GM plans to be an all-electric manufacturer by 2035. Also, Stellantis and Ford state that together with GM, they are committed to be the leaders in the U.S. transition to electric vehicles.
Yes, E-mobility is the way forward and we need you to join the e-mobility revolution.
Would you like to work for an EV company?
EVrecruiter can help you find your dream job – check out our job site